← Back
September 30, 2020
#2366: Amelia's Farm Fresh Cookies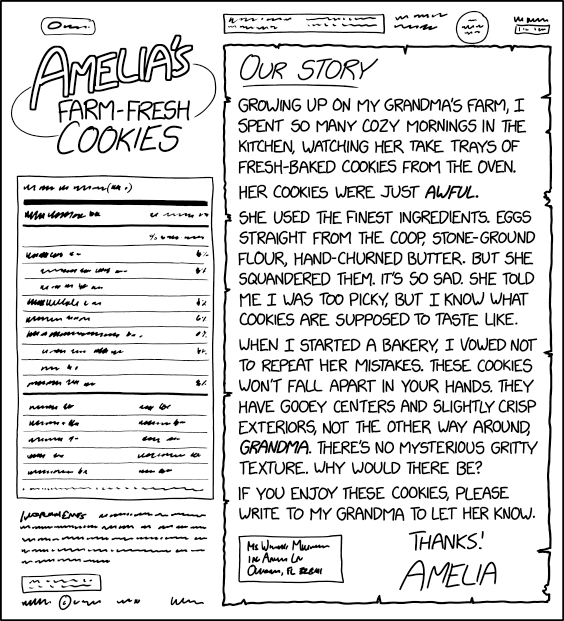 [What looks like the back of a package of cookies is shown.]
[Top left: Product logo.]
Amelia's Farm-Fresh Cookies
[Parts of an oval surround the logo]
[Middle left: What appears to be a standard Nutrition Facts panel, though the details are illegible squiggles]
[Bottom left: What appears to be an ingredients list, though the details are illegible squiggles, and a few other squiggles]
[Right side:]
Our Story
Growing up on my grandma's farm, I spent so many cozy mornings in the kitchen, watching her take trays of fresh-baked cookies from the oven.
Her cookies were just awful.
She used the finest ingredients. Eggs straight from the coop, stone-ground flour, hand-churned butter. But she squandered them. It's so sad. She told me I was too picky, but I know what cookies are supposed to taste like.
When I started a bakery, I vowed not to repeat her mistakes. These cookies won't fall apart in your hands. They have gooey centers, and slightly crisp exteriors, not the other way around, Grandma. There's no mysterious gritty texture. Why would there be?
If you enjoy these cookies, please write to my grandma to let her know.
Thanks!
Amelia
[A partially legible squiggled address appears at the bottom left of the Our Story part of the box. The bracketed dashes represent portions that are illegible.]
Ms W[——] M[——]
1[—] A[——] Ln
O[——], FL 328[–]1