← Back
December 9, 2020
#2396: Wonder Woman 1984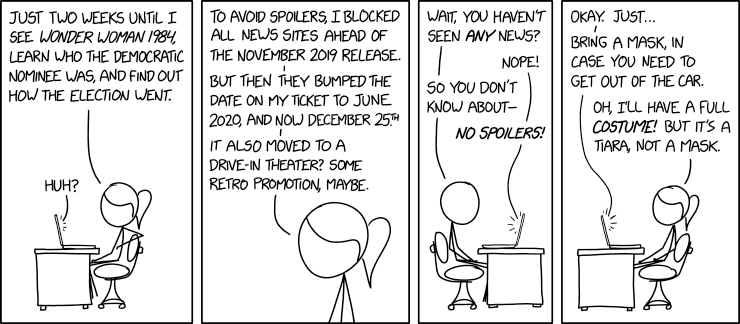 [Ponytail sitting at a desk, chatting with Cueball (off-screen) on a laptop.]
Ponytail: Just two weeks until I see Wonder Woman 1984, learn who the Democratic nominee was, and find out how the election went.
Cueball: Huh?
[Close-up on Ponytail.]
Ponytail: To avoid spoilers, I blocked all news sites ahead of the November 2019 release.
Ponytail: But then they bumped the date on my ticket to June 2020, and now December 25th.
Ponytail: It also moved to a drive-in theater? Some retro promotion, maybe.
[Cueball on his laptop, chatting with Ponytail (off-screen) on a laptop.]
Cueball: Wait, you haven't seen any news?
Ponytail: Nope!
Cueball: So you don't know about -
Ponytail: No spoilers!
[Back to Ponytail sitting at a desk, chatting with Cueball (off-screen) on a laptop.]
Cueball: Okay. Just…
Cueball: Bring a mask, in case you need to get out of the car.
Ponytail: Oh, I'll have a full costume! But it's a tiara, not a mask.