← Back
May 31, 2019
#2157: Diploma Legal Notes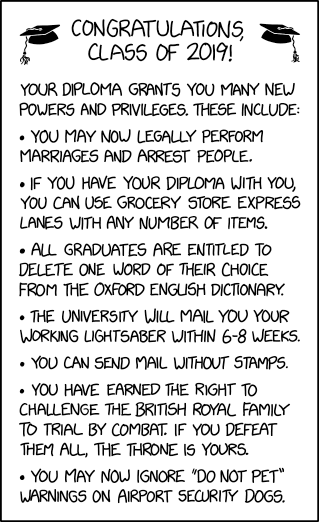 [An official document with a title at the top between two images of graduation hats on either side:]
Congratulations, Class of 2019!
Your diploma grants you many new powers and privileges. These include:
You may now legally perform marriages and arrest people.
If you have your diploma with you, you can use grocery store express lanes with any number of items.
All graduates are entitled to delete one word of their choice from the Oxford English Dictionary.
The university will mail you your working lightsaber within 6-8 weeks.
You can send mail without stamps.
You have earned the right to challenge the British royal family to trial by combat. If you defeat them all, the throne is yours.
You may now ignore "Do Not Pet" warnings on airport security dogs.