← Back
May 24, 2019
#2154: Motivation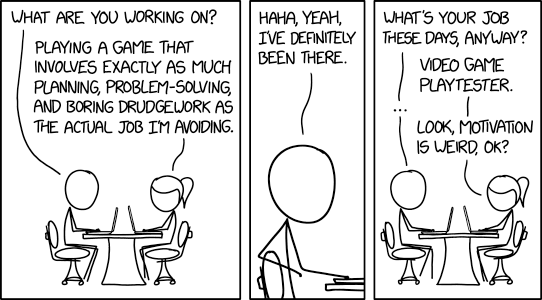 [Cueball and Ponytail sitting at a desk, working on their laptops.]
Cueball: What are you working on?
Ponytail: Playing a game that involves exactly as much planning, problem-solving and boring drudgework as the actual job I'm avoiding.
[Zoom in on Cueball, leaning back with one arm on the back of his chair.]
Cueball: Haha, yeah, I've definitely been there.
[Zoom back out to Cueball and Ponytail sitting at a desk, working on their laptops.]
Cueball: What's your job these days, anyway?
Ponytail: Video game playtester.
Cueball: …
Ponytail: Look, motivation is weird, ok?