← Back
March 17, 2017
#1812: Onboarding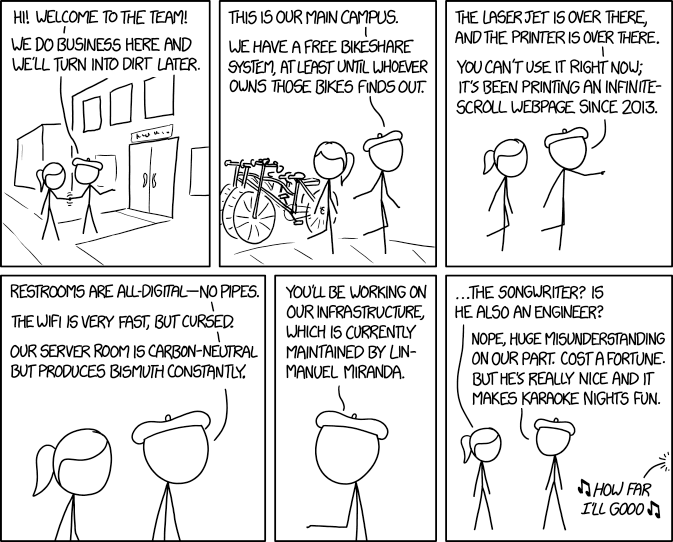 [Beret Guy shakes hands with Ponytail in front of a building while he points at the two large double doors under an unreadable sign.]
Beret Guy: Hi! Welcome to the team!
Beret Guy: We do business here and we'll turn into dirt later.
[Beret Guy and Ponytail walk by three bikes.]
Beret Guy: This is our main campus.
Beret Guy: We have a free bikeshare system, at least until whoever owns those bikes finds out.
[Beret Guy points forward as they walk on.]
Beret Guy: The LaserJet is over there, and the printer is over there.
Beret Guy: You can't use it right now; it's been printing an infinite-scroll webpage since 2013.
[Zoom in on their heads.]
Beret Guy: Restrooms are all-digital - no pipes.
Beret Guy: The WiFi is very fast, but cursed.
Beret Guy: Our server room is carbon-neutral but produces bismuth constantly.
[Beret Guy has turned towards an off-panel Ponytail holding a hand out towards her.]
Beret Guy: You'll be working on our infrastructure, which is currently maintained by Lin-Manuel Miranda.
[Zoom out to both facing each other. From the right singing is heard from off-panel, as indicated with two musical notes.]
Ponytail: …The songwriter? Is he also an engineer?
Beret Guy: Nope, huge misunderstanding on our part. Cost a fortune. But he's really nice and it makes karaoke nights fun.
Lin-Manuel Miranda (off-panel): How far I'll gooo