← Back
February 11, 2016
#1642: Gravitational Waves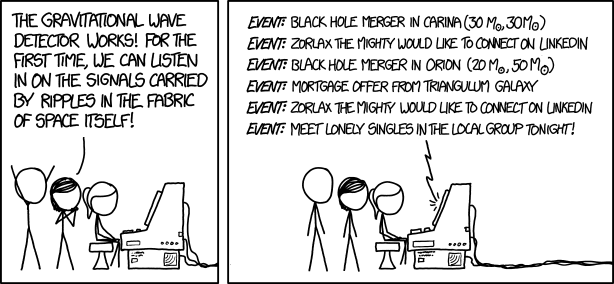 [[Two friends stroll along chatting]]
Hatfriend: Did you watch the super bowl?
Otherfriend: Yes, like a third of the counry.
Otherfriend:A fraction which is INCREASING despite media fragmentation
Hatfriend: Can't we just talk without your weird need to give context for everything?
Otherfriend: Sorry. I'll try.
Hatfriend: Sounds like Peyton Manning's probably going to retire.
Otherfriend: Yes, I.. it..
Hatfriend: C'mon, you can do it!
Otherfriend: He..
Otherfriend: MAMMALS LIKE PEYTON AGE VIA A PROCESS TAHT INVOLVES BOTH THE ACCUMULATION OF DAMAGE AND POORLY-UNDERSTOOD TIMED FACTORS. YET THE CONCEPT OF RETIREMENT ITSELF IS SURPRISINGLY RECENT-
Hatfriend: Okay, good try. Maybe next year.