← Back
September 1, 2015
#1572: xkcd Survey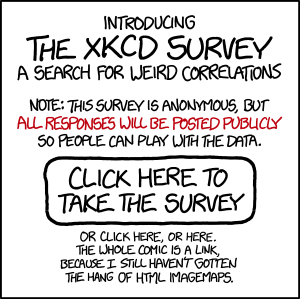 Introducing the XKCD SURVEY! A search for weird correlations.
NOTE: This survey is anonymous, but all responses will be posted publicly so people can play with the data.
Click here to take the survey.
http:
goo.gl
forms
lzZr7P9Qlm
Or click here, or here. The whole comic is a link because I still haven't gotten the hang of HTML imagemaps.