← Back
May 4, 2015
#1520: Degree-Off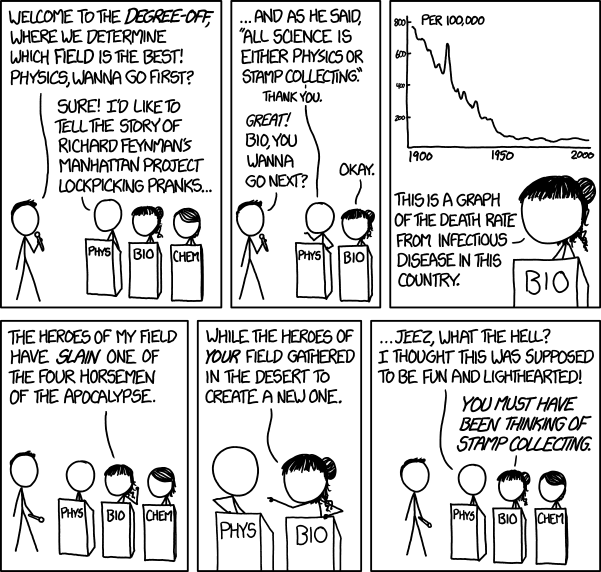 [[A gameshow setting. Three figures stand behind podiums labeled PHYS, BIO, and CHEM, in front of an announcer.]]
Announcer: Welcome to the DEGREE OFF, where we determine which field is the best! Physics, wanna go first?
Physics: Sure! I'd like to tell the story of Richard Feynman's manhattan project lockpicking pranks..
Physics: ..and as he said "All science is either physics or stamp collecting." Thank you.
Announcer: Great! Bio, you wanna go next?
Biology: Okay.
[[A graph appears displaying numbers falling from eight hundred per one hundred thousand, to less than a hundred per one hundred thousand, over the last century.]]
Biology:This is a graph of the death rate from infectious disease in this country.
[[BIO raises fist emphatically]]
Biology: The heroes of my field have SLAIN one of the four horsemen of the apocalypse.
[[BIO points finger at PHYS]]
Biology: While the heroes of YOUR field gathered in the desert to create a new one.
Physics: …jeez, what the hell? I thought this was supposed to be fun and lighthearted!
Biology: YOU MUST HAVE BEEN THINKING OF STAMP COLLECTING.