← Back
August 29, 2014
#1414: Writing Skills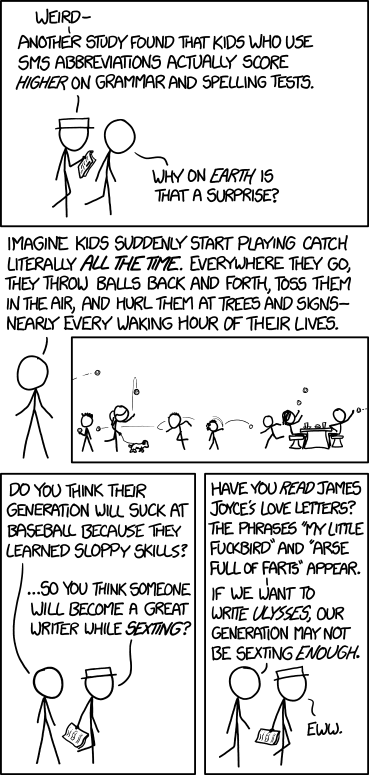 [[White Hat Guy and another guy are walking along. WHG is reading an article.]]
WHG: Weird - another study found that kids who use SMS abbreviations actually score
higher
on grammar and spelling tests.
Other guy: Why on
earth
is that a surprise?
[[Other guy expounds while an inset panel shows various kids throwing and catching balls while doing such things as walking the dog and eating lunch.]]
OG: Imagine kids start playing catch literally
all the time
. Everywhere they go, they throw balls back and forth, toss them in the air, and hurl them at trees and signs - nearly every waking hour of their lives.
[[WHG starts to walk away.]]
OG:Do you think their generation will suck at baseball because they learned sloppy skills?
WHG: …so you think someone will become a great writer while
sexting
?
[[They both walk together.]]
OG: Have you
read
James Joyce's love letters? The phrases "my little fuckbird" and "arse full of farts" appear. If we want to write
Ulysses
, our generation may not be sexting
enough
.
WHG: Eww.