← Back
December 12, 2014
#1459: Documents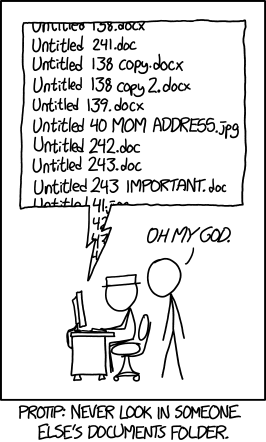 [[White Hat Guy sits at a desk and types at a computer. Stick Guy looks over his shoulder. A balloon shows a list of documents on the screen:
Untitled 138.docx
Untitled 241.doc
Untitled 138 copy.docx
Untitled 138 copy2.docx
Untitled 139.docx
Untitled 40 MOM ADDRESS.jpg
Untiled 242.doc
Untitled 243.doc
Untitled 243 IMPORTANT.doc
Untitled41.doc
..and so on.]]
SG:
OH MY GOD.
Protip: never look in someone else's documents folder.