← Back
August 19, 2013
#1253: Exoplanet Names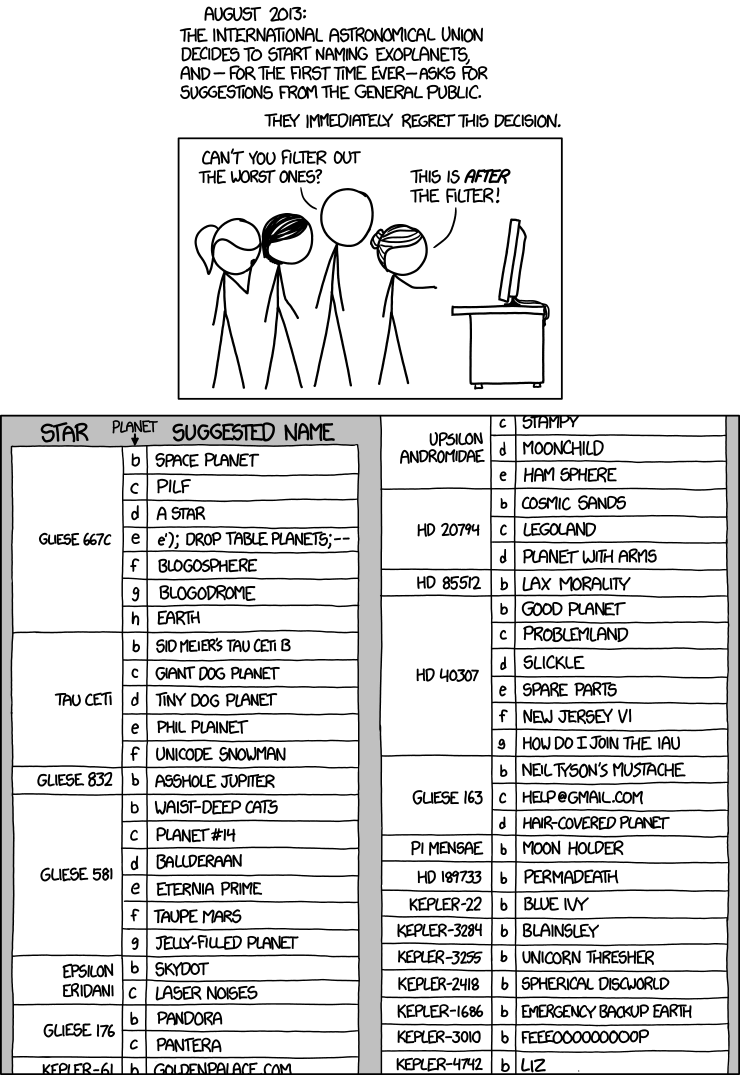 August 2013: The Internation Astronomical Union decides to start naming exoplanets, and - for the first time ever - asks for suggestions from the general public.
They immediately regret this decision.
[[Four figures stand around looking at a computer screen. One is facepalming.]]
Man: Can't you filter out the worst ones?
Woman: This is after the filter!
((The list of suggestions is given as a table with three columns: "Star", "Planet", "Suggested Name". Here, the columns are given in a |-delimited form.))
Star | Planet | Suggested Name
Gliese 667C | b | Space planet
Gliese 667C | c | Pilf
Gliese 667C | d | A star
Gliese 667C | e | e'); DROP TABLE planets; –
Gliese 667C | f | Blogosphere
Gliese 667C | g | Blogodrome
Gliese 667C | h | Earth
Tau Ceti | b | Sid Meier's Tau Ceti B
Tau Ceti | c | Giant dog planet
Tau Ceti | d | Tiny dog planet
Tau Ceti | e | Phil plainet
Tau Ceti | f | Unicode snowman
Gliese 832 | b | Asshole Jupiter
Gliese 581 | b | Waist-deep cats
Gliese 581 | c | Planet #14
Gliese 581 | d | Ballderaan
Gliese 581 | e | Eternia prime
Gliese 581 | f | Taupe Mars
Gliese 581 | g | Jelly-filled planet
Epsilon Eridani | b | Skydot
Epsilon Eridani | c | Laser noises
Gliese 176 | b | Pandora
Gliese 176 | c | Pantera
Kepler-61 | b | Goldenpalace.com
Upsilon Andromidae | c | Stampy
Upsilon Andromidae | d | Moonchild
Upsilon Andromidae | e | Ham sphere
HD 20794 | b | Cosmic sands
HD 20794 | c | Legoland
HD 20794 | d | Planet with arms
HD 85512 | b | Lax morality
HD 40307 | b | Good planet
HD 40307 | c | Problemland
HD 40307 | d | Slickle
HD 40307 | e | Spare parts
HD 40307 | f | New Jersey VI
HD 40307 | g | Hod do I join the IAU
Gliese 163 | b | Neil Tyson's mustache
Gliese 163 | c | help@gmail.com
Gliese 163 | d | Hair-covered planet
Pi Mensae | b | Moon holder
HD 189733 | b | Permadeath
Kepler-22 | b | Blue ivy
Kepler-3284 | b | Blainsley
Kepler-3255 | b | Unicorn thresher
Kepler-2418 | b | Spherical Discworld
Kepler-1686 | b | Emergency backup Earth
Kepler-3010 | b | Feeeooooooooop
Kepler-4742 | b | Liz