← Back
July 20, 2012
#1084: Server Problem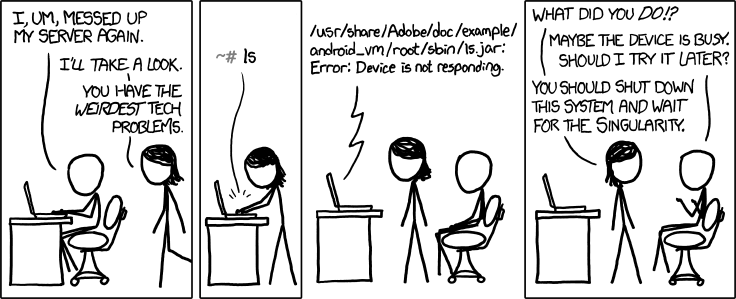 Person 1, sitting at laptop: I, um, messed up my server again.
Person 2: I'll take a look. You have the weirdest tech problems
[[Person 2 uses the root prompt]]
~# ls
[[computer returns the following]]
usr
share
Adobe
doc
example
android_vm
root
sbin
ls.jar:
Error: Device is not responding.
[[Person 2 has an amazingly incredulous look on their face]]
Person 2: What did you do!?
Person 1: Maybe the device is busy. Should I try it later?
Person 2: You should shut down this system and wait for the Singularity.