← Back
April 11, 2011
#884: Rogers St.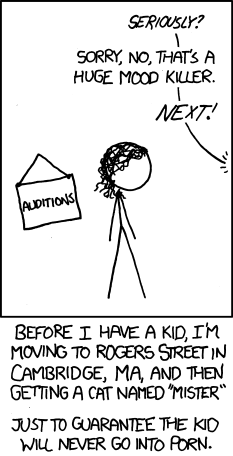 [[Someone with curly hair is standing in front of a sign labeled 'Auditions'. A judge of some sort speaks from off-panel.]]
Judge:
Seriously?
Judge: Sorry, no, that's a huge mood killer.
Judge:
Next!
Before I have a kid, I'm moving to Rogers Street in Cambridge, MA, and then getting a cat named "Mister"
Just to guarantee the kid will never go into porn.