← Back
January 21, 2011
#850: World According to Americans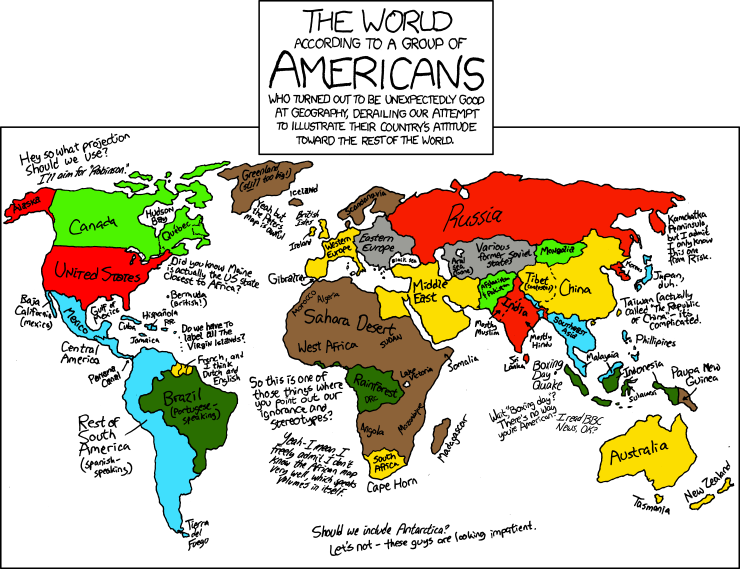 The World
According to a group of
Americans
Who turned out to be unexpectedly good at geography, derailing our attempt to illustrate their country's attitude toward the rest of the world.
((One big panel, a map of the world. Fairly accurate. Annotated in several different scripts of handwriting. These are transcribed in approximately left to right, top to bottom order. Some are written paired and appear as such.))
Hey so what projection should we use?
I'll aim for "Robinson."
Alaska
Canada
Hudson Bay
Québec
Greenland (still too big!)
Yeah but the Peters map is awful
United States
Did you know Maine is actually the US state closest to Africa?
Baja California (Mexico)
Mexico
Gulf of Mexico
Cuba
Hispanola
Bermuda (British!)
Central America
Jamaica
Do we have to label all the Virgin Islands?
Panama Canal
French, and I think Dutch and English
Brazil (Portuguese - speaking)
Rest of South America (Spanish-speaking)
Tierra del Fuego
Iceland
British Isles
Ireland
Gibraltar
Western Europe
Scandinavia
Eastern Europe
Black Sea
Middle East
Morocco
Algeria
Sahara Desert
West Africa
Sudan
So this is one of those things where you point out our ignorance and stereotypes?
Yeah - I mean I freely admit I don't know the African map very well, which speaks volumes in itself.
Rainforest
DRC
Lake Victoria
Somalia
Angola
Mozambique
South Africa
Cape Horn
Madagascar
Russia
Kamchatka Peninsula but I admit I only know this one from Risk
Aral Sea (Gone)
Various former Soviet States
Mongolia
Afghanistan & Pakistan
India
Mostly Muslim
Mostly Hindu
Sri Lanka
Tibet (informal)
China
Southeast Asia
Koreas
Japan, duh.
Taiwan (actually called "The Republic of China" - it's complicated
Phillipines
Malaysia
Boxing Day Quake
Wait, "Boxing day"? There's no way you're American.
I read BBC News, OK?
Indonesia
Sulawesi
Paupa New Guinea
Australia
Tasmania
New Zealand
Shall we include Antarctica?
Let's not - these guys are looking impatient.