← Back
August 16, 2010
#780: Sample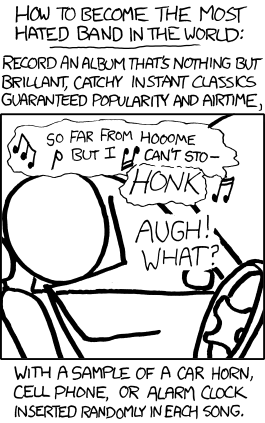 HOW TO BECOME THE MOST HATED BAND IN THE WORLD:
Record an album that's nothing but brilliant, catchy instant classics guaranteed popularity and airtime,
[[A man driving in a car, hands off the wheel in sudden surprise and confusion.]]
«music: So far from hooome but I can't sto-HONK»
Man: AUGH! WHAT?
With a sample of a car horn, cell phone, or alarm clock inserted randomly in each song.