← Back
September 3, 2008
#471: Aversion Fads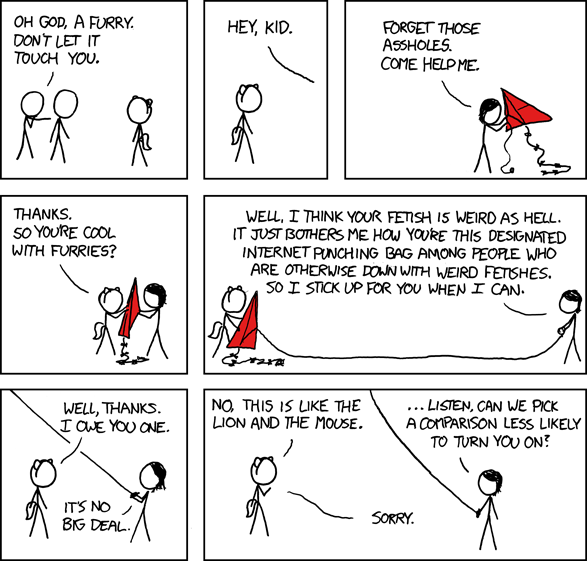 [[Two guys stand together as a young guy dressed up with small ears and a tail approaches.]]
First Man: OH GOD, A FURRY. DON'T LET IT TOUCH YOU.
[[The Furry hears someone call out to him]]
Unknown: HEY, KID.
[[A young woman is seen preparing a kite to be flown.]]
Woman: FORGET THOSE ASSHOLES. COME HELP ME.
[[The Furry begins to help the woman set up the kite.]]
Furry: THANKS, SO YOU'RE COOL WITH FURRIES?
Woman: WELL, I THINK YOUR FETISH IS AS WEIRD AS HELL. IT JUST BOTHERS ME HOW YOU'RE THIS DESIGNATED INTERNET PUNCHING BAG AMONG PEOPLE WHO ARE OTHERWISE DOWN WITH WEIRD FETISHES. SO I STICK UP FOR YOU WHEN I CAN.
[[The kite now successfully up in the air, the two continue.]]
Furry: WELL, THANKS. I OWE YOU ONE.
Woman: NO BIG DEAL.
Furry: NO, THIS IS LIKE THE LION AND THE MOUSE.
Woman: …LISTEN, CAN WE PICK A COMPARISON LESS LIKELY TO TURN YOU ON?
Furry: SORRY.