← Back
January 9, 2008
#368: Bass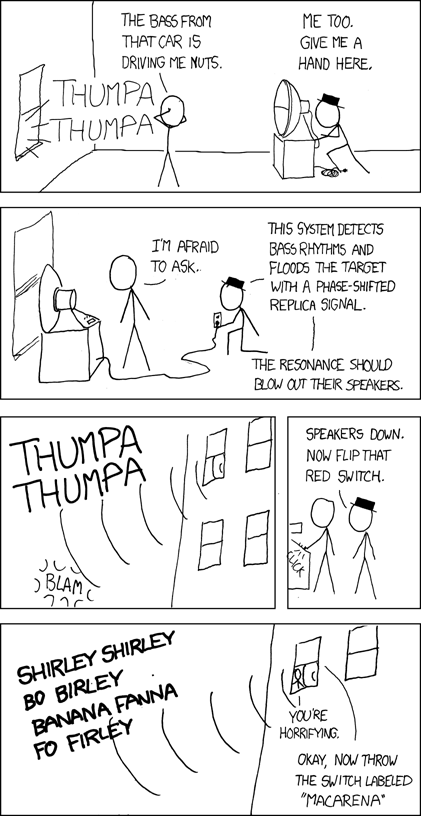 [[The Hat Guy and another guy are standing in a room with one window. Hat Guy is pushing a box with an elliptical dish on top towards the window.]]
«From outside, through the window: THUMPA THUMPA»
Guy: The bass from that car is driving me nuts.
Hat Guy: Me too. Give me a hand here.
[[The dish is aimed out the window; the Hat Guy plugs the device into the wall.]]
Guy: I'm afraid to ask.
Hat Guy: The system detects bass rhythms and floods the target with a phase-shifted replica signal.
Hat Guy: The resonance should blow out their speakers.
[[The side of a building. The dish of the device is visible through a window, emitting sound waves.]]
«THUMPA THUMPA» «BLAM»
[[Back in the room]]
Hat Guy: Speakers down. Now flip that red switch.
[[The guy does so with a "click"]]
[[Back to the outside view, more sound waves]]
«SHIRLEY SHIRLEY BO BIRLEY BANANA FANNA FO FIRLEY»
Guy: You're horrifying.
Hat Guy: Okay, now throw the switch labeled "Macarena".