← Back
August 3, 2007
#298: Tesla Coil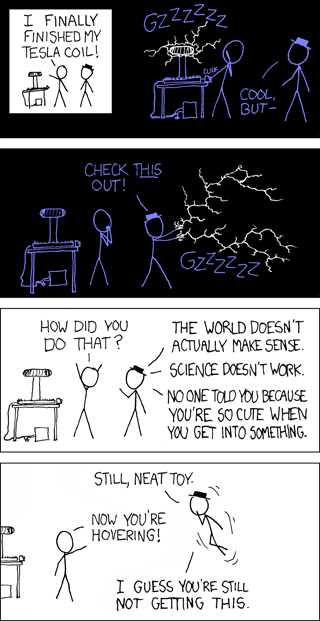 [[Two figures, one wearing a hat stand near a tesla coil mounted on a table.]]
No hat: I finally finished my Tesla Coil!
[[The room is dark; characters appear as faint blue outlines on black background. No hat turnss on the Tesla Coil «click» and it sparks white static electricity. «gzzzzzz»]]
Hat Man: Cool, but-
Hat Man: Check this out
[[Lightning shoots out of Hat Man's hands «gzzzzzz»]]
[[The lights are back on]]
No Hat: How did you do that?
Hat Man: The world doesn't actually make any sense. Science doesn't work. No one told you because you're so cute when you get into something.
Hat Man: [[Floting up the frame]] Still, neat toy.
No Hat: [[Pointing to Hat Man]] Now you're hovering!
Hat Man: I guess you're still not getting this.