← Back
November 14, 2007
#343: 1337: Part 3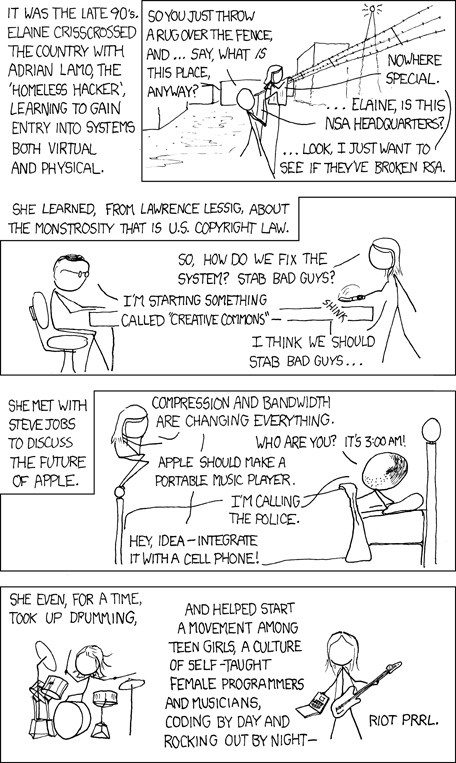 [[Outside, Adrian Lamo is helping Elaine Roberts over a barbed wire fence.]]
Narrator: IT WAS THE LATE 90'S. ELAINE CRISSCROSSED THE COUNTRY WITH ADRIAN LAMO, THE 'HOMELESS HACKER', LEARNING TO GAIN ENTRY INTO SYSTEMS BOTH VIRTUAL AND PHYSICAL.]]
Adrian Lamo: SO YOU JUST THROW A RUG OVER THE FENCE AND … SAY, WHAT IS THIS PLACE ANYWAY?
Roberts: NOWHERE SPECIAL.
Lamo: …ELAINE, IS THIS NSA HEADQUARTERS?
Roberts: …LOOK, I JUST WANT TO SEE IF THEY'VE BROKEN RSA.
[[Inside, Lawrence Lessig is sitting at a table, Roberts is standing across the table swinging a knife]]
Narrator: SHE LEARNED, FROM LAWRENCE LESSIG, ABOUT THE MONSTROSITY THAT IS U.S. COPYRIGHT LAW.
Roberts: SO, HOW DO WE FIX THE SYSTEM? STAB BAD GUYS?
Lessig: I'M STARTING SOMETHING CALLED "CREATIVE COMMONS"
«SHINK»
Elaine Roberts: I THINK WE SHOULD STAB BAD GUYS…
[[Steve Jobs is lying up in his bed, Roberts is balancing while crouched on the foot of Jobs' bed]]
Narrator: SHE MET WITH STEVE JOBS TO DISCUSS THE FUTURE OF APPLE.
Roberts: COMPRESSION AND BANDWIDTH ARE CHANGING EVERYTHING.
Jobs: WHO ARE YOU? IT'S 3:00AM!
Roberts: APPLE SHOULD MAKE A PORTABLE MUSIC PLAYER.
Jobs: I'M CALLING THE POLICE.
Roberts: HEY, IDEA - INTEGRATE IT WITH A CELL PHONE!