← Back
August 18, 2006
#145: Parody Week: Dinosaur Comics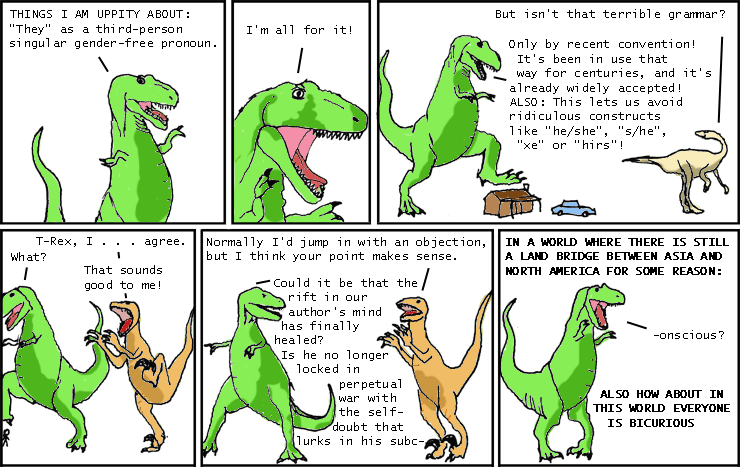 T-Rex: THINGS I AM UPPITY ABOUT: "They" as a third-person singular gender-free pronoun.
T-Rex: I'm all for it!
Dromiceiomimus: But isn't that terrible grammar?
T-Rex: Only by recent convention! It's been in use that way for centuries, and its use is widely accepted! ALSO: this lets us avoid ridiculous constructs like "he
she", "s
he", "xe" or "hirs"!
Utahraptor: T-Rex, I… agree.
T-Rex: What?
Utahraptor: That sounds good to me!
Utahraptor: Normally I'd jump in with an objection, but I think your point makes sense.
T-Rex: Could it be that the rift in our author's mind has finally healed? Is he no longer locked in perpetual war with the self-doubt that lurks in his subc-
Narrator: IN A WORLD WHERE THERE IS STILL A LAND BRIDGE BETWEEN ASIA AND NORTH AMERICA FOR SOME REASON:
T-Rex: -onscious?
Narrator: ALSO HOW ABOUT IN THIS WORLD EVERYONE IS BICURIOUS